With all students who are training or trained with us, feel free to tell us what you think and feel about our Wing Chun martial arts self defense classes. Please drop us an email with your comments to info@startmartialarts.co.uk.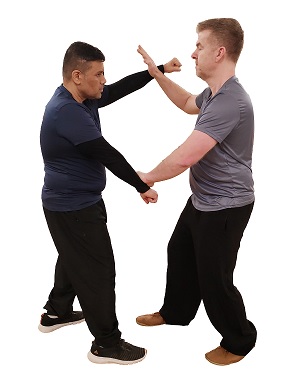 adults class testimonials
"In comparison to other martial arts activity, Chris is the only one who has impressed me. He has delivered beyond my expectation."
★★★★★
Vivian Wei, Business Owner

"I can't recommend Sifu Chris Kung Fu enough! I have incredibly increased strength, technique and confidence. I am so grateful for the knowledge I have gained and the people I have encountered on my martial art journey, it is very friendly environment, I am always laughing and smiling along the way" .
★★★★★
Grace Eriksson, Account Manager

"I recently started with Wing Chun and I have found the environment friendly and open with even the other students being open to explaining and demonstrating things to the new comers."
★★★★★
John Heywood, Chief Executive Officer
"I started Wing Chun almost 10 years ago now, and originally joined as I found the concept more interesting than Judo or Karate."
★★★★★
Joel Hyland, Account Manager
"I am now approaching the one year anniversary of training under Si Hing Chris and the Schools Of Kung fu by IWKA, and I am pleased to report that not only am I in the best physical shape of my entire life, but that I have found Wing Chun to be more exciting and stimulating than any martial art I have previously encountered."
★★★★★
Dale Carpenter, Freelance Bespoke Cake Artist
children class testimonials
"Benjamin and Joseph have thoroughly enjoyed your classes so far. Their concentration skills have improved, so has their listening skills they have not stopped telling all their friends and family how much they love coming. Thank you so much for having them at class." .
★★★★★
Hannah Deacon

"Khaira and Kadir love coming to Schools Of Kung Fu by IWKA and have learnt to stay focused. Each session they remember the word of the week and love to share it with people outside of the club. Both teachers are fantastic and keep the club fun and children engaged throughout the class.
Highly recommended the class to anyone" .
★★★★★
Haditi, Housewife

"Henry and Noah really enjoying the Schools Of Kung Fu by iwka classes,is improve my concentration and listening skills as well as teaching them the right decision to have to look after themselves. They are very pleased with the classes and impact from teachers and effective happening to the boys."

★★★★★
Mr. & Mrs Morgerrison

"Life has been attending this class for a new 3 years intensity cognitive Cumberland and his company's Luke has now been outclassed for nearly a year and I enjoyed it."

★★★★★
Ammy, Business Development Manager
"My daughter's been aiming coming for almost a year and she's really enjoying the classes children with their discipline as well as playing games with person little wonder they won't get bored it would be different if I've started teachers."

★★★★★
Joanna, Mother

"Oscar and Felix have been coming to kung fu for a year and still love it if I was worried they get bored I invested plus a year and I still love it I love the fact is a deep and self-defense discipline and mindless punching it works undisciplined Focus control self defence skills see if you Chris and instructed manager set my kids to behave in a way of never hope to achieve"

★★★★★
Mrs Hannah