Martial Arts Slough │ Maidenhead │ Watford │ Hemel Hempstead
Authentic Wing Chun Kung Fu
Start Martial Arts
Awaken Your Hidden Power to Fight
Wing Chun Kung Fu principles are based on human dynamic and ergonomics, all the movements are natural and reflexive. Students will learn defense technique and control their fighting power & strength as well as manipulating opponents' force in a combat situation. Our martial arts classes in Slough, Maidenhead, Watford, Hemel Hempstead, London and more locations in your areas.
Adult Class:
All ages Start Martial Arts is fighting energy, which allows you to borrow the strength from the attacker and give it back to them with your own strength and power. Adult techniques designed to,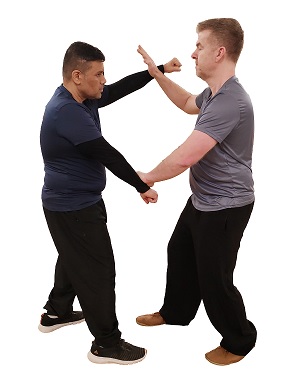 What is Wing Chun Martial Arts?
Wing Chun is a scientific martial art which borrows the strength from the attacker. The body moves and flows around attacks, making it a difficult task for anyone to land a punch or kick. It is ideal for anyone as our system does not use strength. More
Our Successful 5 Step Training Plan to Master Level:

Student Grade Stage 1
Improve body coordination, speed and accuracy.
The ability to defend against basic punching & kicking attacks. Prepa fighting techniques for potential upgrade.

Student Grade Stage 2
Expanding from basic introduction into the internal part of training. Schools Of Kung Fu by IWKA system takes you into the realm of the more advanced forms and techniques.

Student Grade Stage 3
Excellence in sensory motor skills & handling of Body, Mind & Energy. Good understanding of the Six Core Elements. Leadership mindset in various aspects of life.
Technician Level
Higher internal skills & advanced forms: 37 postures, White Crane/Taiji Form, Six Core Elements..& more. Internal skills to the destined level for the master test.

Master & Grand Master Level
Superb understanding & handling of the Six Core Elements. The complete legacy & transmission of Eternal Spring Weng Chun(Tang Yick) & Beautiful Spring Lineage of the Yik Kam Wing Chun.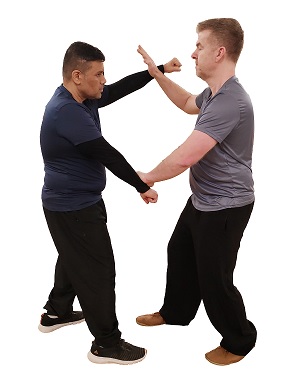 Children Martial Art Classes
- Thrive in Life Programmes
Your little martial artist will block, punch and kick their way through this positive, non-competitive twist on the ancient martial arts. Moreover, obstacle courses, high energy background music, skill-based activities and games create fun learning opportunities to help kids Thrive, become successful & do better at home/school.
Schools Of Kung-Fu Kids is the Growth Programmes
• Good Behaviour & Self-discipline
Our goal isn't to make children into champion fighters - it's to make them champions in life!
• Self-defence & Anti-bullying to Avoid Danger
Martial Arts are less about your child learning to fight others, and more about fighting...himself. His innermost fears.
• Concentration, Confidence & Positivity
We develop fundamental techniques and create a solid foundation to build upon in the older years.
• Progression with Regular Gradings to Black Belt
Give Your Child A Kick Start On A Successful Life! We provide a fun, loving, disciplined environment for students to achieve the goal.
Best Martial Arts Videos of the Month
Check out the latest videos and clips,
Catch up on the greatest moments in martial arts industry and Schools Of Kung Fu Wing Chun stories from the world.
To find out more check Gallery/ Video
Our instructors are fully CRB Checked.
Check out our testimonials from adults and children's parents, why they love Wing Chun Martial art and how it helps their life. We'd love to have you as a happy student/parent too.
"I recently started with Wing Chun and I have found the environment friendly and open with even the other students being open to explaining and demonstrating things to the new comers."
★★★★★
John Heywood, Chief Executive Officer
"In comparison to other martial arts activity, Chris is the only one who has impressed me. He has delivered beyond my expectation."
★★★★★
Vivian Wei, Account Manager
"I started Wing Chun almost 10 years ago now, and originally joined as I found the concept more interesting than Judo or Karate."
★★★★★
Joel Hyland, Account Manager
"I am now approaching the one year anniversary of training under Si Hing Chris and the Schools of Kung Fu by  IWKA, and I am pleased to report that not only am I in the best physical shape of my entire life, but that I have found Wing Chun to be more exciting and stimulating than any martial art I have previously encountered."
★★★★★
Dale Carpenter, Freelance Bespoke Cake Artist
Hemel Hempstead
MONDAYS
4:15pm – 4:45pm
Grasshoppers 4-6yrs
5:00 – 5:30pm
Grasshoppers 4-6yrs
5:45 – 6:30pm
Kung Fu Tigers 7-12yrs
8:00 – 10:00pm
Kung Fu Dragons 13-17yrs
8:00 – 10:00pm
Adults Class 18yrs+
Hemel Hempstead Catholic Church, Rant Meadow, Hemel Hempstead, HP3 8PG
(We train in the hall at the side of the church)
Slough Martial Arts

5:00 – 5:30pm
Grasshoppers 4-6yrs
5:45 – 6:30pm
Kung Fu Tigers 7-12yrs
8:00 – 10:00pm
Kung Fu Dragons 13-17yrs
8:00 – 10:00pm
Adults Class 18yrs+
St Pauls Church
Gilliat Hall,
Stoke Road, Slough, SL2 5AS
Watford Martial Arts

5:00 – 5:30pm
Grasshoppers 4-6yrs
5:45 – 6:30pm
Kung Fu Tigers 7-12yrs
7:45 – 9:45pm
Kung Fu Dragons 13-17yrs
7:45 – 9:45pm
Adults Class 18yrs+
Central Primary School,
Stanley Road, Watford,
WD17 2LX
Maidenhead Martial Arts

THURSDAYS
5:00 – 5:30pm
Grasshoppers 4-6yrs
5:45 – 6:30pm
Kung Fu Tigers 7-12yrs
8:00 – 9:30pm
Kung Fu Dragons 13-17yrs
8:00 – 10pm
Adults Class 18yrs+
Furze Platt Memorial Hall,
Furze Platt Rd,
Maidenhead SL6 7NG
(We train in the hall next to BMW Bahnstormer)